Reviews Very Positive for Movie, 'Selma' Opens Nationwide January 9th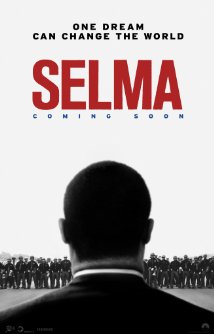 We meet Martin Luther King, Jr. in 1964, moments before his acceptance of the Nobel Peace Prize in Oslo. He's practicing, reciting key phrases in the mirror, working on his ascot. The speech is done, he'll deliver it with his typical Baptist fervor, it's the ascot he's concerned about. He doesn't want to look overly sophisticated, or above his cause. His wife Coretta (Carmen Ejogo) is there, assuring him he'll be fine. King is fully aware of the power of his words, his presence, and we immediately become fascinated by this man's thoughtfulness of presence. He has to be self-conscious, especially if he's an audible figurehead amidst one of the most racially contentious and frankly quite scary watershed moments in America.
Jump to his failed initial talks with President Lyndon Johnson (Tom Wilkinson, in a strikingly unattractive performance). King wants voting rights, and an affirmative push against backwoods garbage policies that restrict blacks from voting. Johnson hears these complaints, and yet he assumes his signing of the Civil Rights Act of '64 should have sufficed for King, and it's just not the right time for more race issues. King must act, and in that moment, he sets in motion what would become a peak moment in his career — the epic 1965 march from Selma, Alabama to the state's capital in Montgomery. The entire account will leave your heart outside your chest. (More)
Movie Review from Consequence of Sound.net.
Examiner.com gives Selma five stars,
"Selma," whose name echoes the history being told, is one of those films that gets history right, honors it, entertains you without sacrificing the real thing, and moves you to no end. Anchored by an amazing lead performance from David Oyelowo as Dr. Martin Luther King, Jr., "Selma" has the ability to break and shatter the hardest of souls, thicken your pulse, and devour your tissue box. The experience is entirely worth all of that trouble. Best of all, it earn that emotion from you. Dare I say, "Selma" might be even better than last year's Best Picture winner "12 Years a Slave." That's the level of impact we're talking about. (Click link in title for more)
Do you plan on seeing this movie opening weekend?